Read our review of the best flat pillow for side sleepers.
If you are in a hurry and just want to know what the best flat pillow for side sleepers is, I recommend the Avocado Molded Organic Latex Pillow.
Due to the space between the head and neck when side sleeping, the best pillow for a side sleeper should support the neck and cushion the head. 
Thicker pillows usually serve the purpose but they shouldn't be so thick that they misalign the spine.
Too thin pillows on the other hand might not offer the much-needed support.
If you, however, feel uncomfortable using thick pillows, there are several flat pillows that can help you sleep without having to worry about stiff neck or shoulder pain.
Here is a review to narrow down the best flat pillow for side sleeping.
Today I am reviewing the following best pillow for people who like sleeping on their side: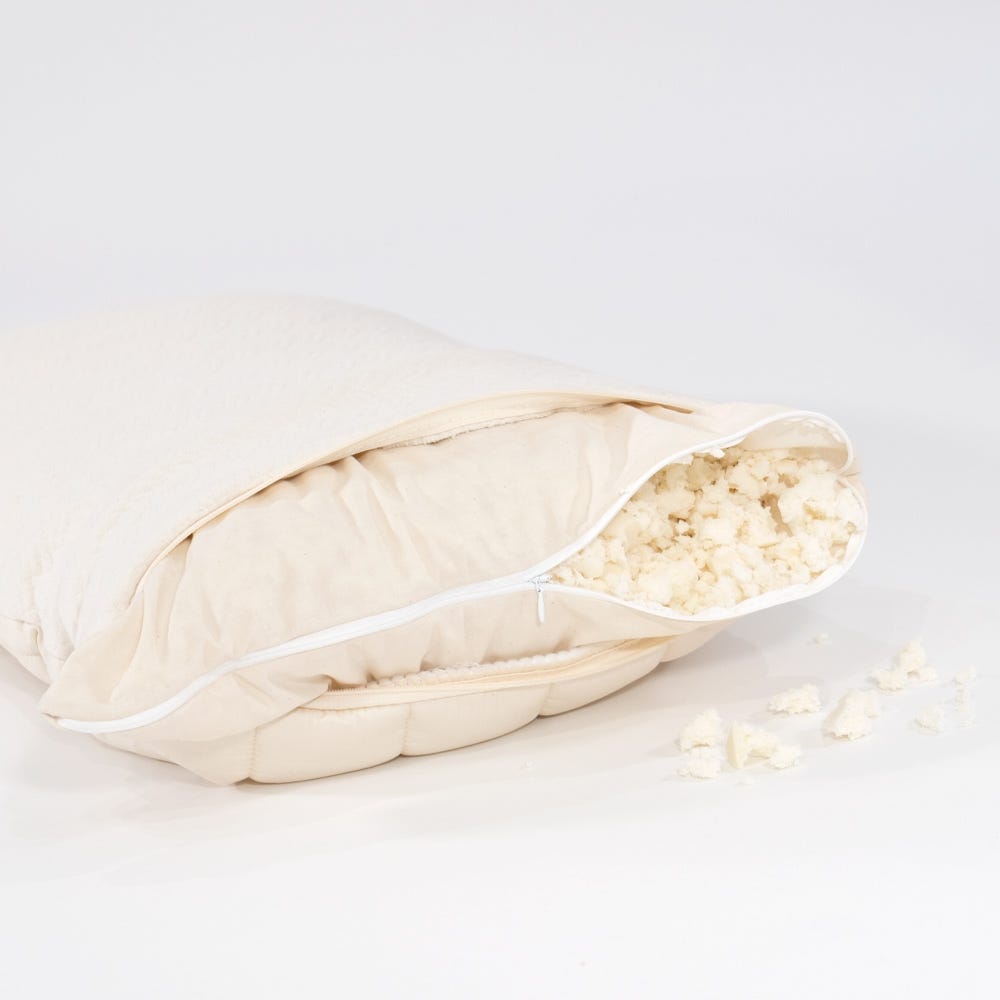 Looking for the best-shredded latex pillow? You might want to try the Naturepedic 2-in-1 adjustable latex pillow.
It is made of shredded latex fill and features 2 distinct feels thanks to its removable and machine washable cotton cover.
One side is smooth stretch-knit while the other contains quilted PLA batting to create plush comfort. Further, the fill is adjustable to suit your preferred loft. 
The organic shredded latex pillow is certified by GOTS, MadeSafe, GreenGuard Gold, UL, and Zero Toxics and is covered by free returns, a 30-day money-back guarantee, and 1-year limited warranty.
Available sizes include king, queen, and standard.
As the name suggests, Sleep and Beyond myTraining latex pillow helps train proper back and side sleeping position. 
It is latex and wool-filled to address head, neck, and shoulder pain and discomfort.
This pillow's most outstanding features include 2 cervical rolls for neck support and a central depression to cradle your head during sleep. 
The pillow comes with a quilted wool-filled cover and adjustable loft. 
It can fit into a standard queen pillowcase and is covered by a 5-year manufacturer warranty.
Sleep and Beyond Latex  Side Pillow ergonomically contours to your natural curves for maximum comfort and support.
Like other latex pillows by the same brand, it is filled with adjustable latex noodles and Shropshire wool puffs.
The cooling pillow is hypoallergenic, high loft, and is available in standard and queen sizes.
A new pillow comes with a wool-filled quilted cover and 2 extra 300TC cotton sateen pillowcases.
The brand backs each pillow with a 5-year manufacturer warranty.
Avocado Organic Latex Pillow is the best pillow for eco-conscious side sleepers. It is made of an all-natural material collection comprising of a charcoal-infused latex core and a GOTS certified organic cotton cover.
Latex naturally holds its shape well and molds to your natural curves to provide neck support and prevent neck and shoulder pain.
Infusion with charcoal complements latex's cooling properties and further helps to eliminate body odors and moisture build-up.
With the machine washable cover, keeping your organic pillow clean has never been easier.
Besides Global Organics Textile Standards, the cooling pillow is also certified by Oeko-Tex Class 1, GreenGuard Gold, and eco-INSTITUT.
This firm pillow is available in standard, queen, and king sizes. It is backed by 100-night trials and a 1-year warranty.
Tempur-Pedic Extra soft pillow features low-profile memory foam suitable for all sleep positions. It is encased in a premium knit breathable machine washable cover.
Memory foam not only adapts to the shape of your head, neck, and shoulders for maximum support and comfort but also returns back to its original shape after every use.
If you are travelling and would like to bring your pillow along, this thin memory foam pillow can be easily compressed for travelling.
Tempur-Pedic flat pillows are made in the USA and are covered by a limited warranty. They come in 24×15.5 inches.
This thin pillow is rated by over 4k customers on Amazon.
Casper memory foam pillow features a 3-layer design comprising two plush low-density outer layers for comfort and an inner high-density layer for support.
These are enclosed in a polyester/spandex liner then encased in an outer washable cover made of 88% polyester and 12% spandex.
The entire ultra-slim pillow contains tiny channels that combined with the extra breathable cover enhance airflow and create a cooling effect. 
This 2-inches thick pillow is certified by CertiPUR-US and Oeko-Tex Standard 100 and covered by a 1-year limited warranty. It measures 26×18 inches.
The most outstanding feature of the Cosney memory foam pillow is its ergonomic contour design meant to prevent sleep discomforts like shoulder and neck pain. 
The supportive pillow is contoured to keep your neck and back aligned without falling out of position whether you are back, side, or stomach sleeping.
Further, the unique design allows you to choose the right pillow loft for your needs. On one side, the pillow is 3.9 inches high while on the other, it is 3.1 inches.
With a removable zippered cover, your foam pillow is easy to keep clean. The cover is designed with a breathable mesh on the sides to help you sleep cool.
This bed pillow is available in queen size and comes in firm and soft densities. You can also opt for white or blue color.
Zoey side sleeper pillow is among the best adjustable pillows. It features shredded memory foam and down alternative pillow filling. 
The outer cover is made of lyocell, polyester, and spandex to give the pillow a luxurious extra soft finish. 
You can add or reduce the filling in the inner pillow to achieve firm, medium, or soft densities for all sleep positions.
Zoey adjustable pillow is CertiPUR- US and Oeko-Tex certified and safe for use by all members of the family.
This pillow is available in grey and white and in king and queen sizes. The brand offers a 30-day money back guarantee.
The Purple Pillow is made in the USA. It features a unique hyper-elastic polymer designed into a purple grid that makes it the perfect pillow for optimal head and neck support.
The grid has numerous air channels that encourage airflow to keep you cool all night. It retains its shape after every use.
The cooling pillow is non-toxic and hypoallergenic. It is CertiPUR-US and CleanAir GOLD certified.
It comes with adjustable boosters that can help you change the pillow loft by 1, 2, or 3 inches and a breathable moisture-wicking mesh cover that complements the pillow's cooling properties.
The Purple pillow is only available in one size measuring 24×16 inches.
Conclusion
These are the best flat pillows for side sleepers.  You can make your choice based on materials, density, design, certifications, or pure preference. Each of these pillows features cooling properties.
Some also offer different sizes while others are limited to one. They are all easy to keep clean because of their removable covers.
One pillow manages to bring out the best of the above features with all-organic material composition. Based on this, our editor's choice for the best side sleeper flat pillow is the Avocado Molded Organic Latex Pillow.
Things to consider when looking for the best flat pillow if you are a side sleeper
What kind of pillow should a side sleeper use?
The best pillows for side sleepers should support and cushion the head and neck to prevent pressure build-up. Memory foam, latex, feather, down, down alternative, and buckwheat pillows are among the best.
What size pillow is best for side sleepers?
Common sizes for side sleeper pillows include standard, queen, and king. The size of the pillow you need is determined more by your sleeping habits than your sleeping position. 
A side sleeper who rarely moves in their sleep can use the standard size while those who move a lot or spread out more on the pillow surface will require the larger queen and king sizes.
There's also the rare body pillow for side sleepers looking for extra support and comfort for the entire body. This can range in dimensions depending on the size of your body.
What pillow density is best for side sleepers?
Side sleepers need medium-density pillows with medium to high loft to avoid misalignment of the spine caused by too much sinking or too much elevation of the head and neck.
What firmness is best for side sleepers?
A pillow that is medium-firm to firm provides a good balance between support and comfort. It ensures that a side sleeper does not sink enough to misalign the spine or get so elevated that they experience discomfort around the neck and shoulders.
Is memory foam good for side sleepers?
Memory foam pillows possess great contouring abilities and feel softer when they come into contact with body heat. With the right firmness, side sleepers can get both pressure relief and support.