Read our review of the best organic pillow for side sleepers.
If you are in a hurry and just want to know what the best organic pillow for side sleepers is, I recommend the Bean Products Organic Kapok Pillow.
Organic pillows are not only environmentally friendly but also naturally safe for your health because they are free of toxic chemicals. The best organic pillows feature materials like natural latex, organic kapok, organic wool, organic cotton, and organic down.
Organic materials undergo organic certification which is mostly done by Global Organic Textile Standards which can be simply stated as GOTS certified organic.
Organic latex is usually certified by Global Organic Latex Standard and can be stated as GOLS Certified Organic latex on the product. 
The diversity of organic materials and their ability to be crafted into various sizes, designs, and densities put organic pillows among the best pillows for side sleepers.
Being the most popular among sleeping positions, side sleeping also boasts the biggest share of pillows in the market and organic materials have not been left behind.
Today I am reviewing the following organic, non-toxic and natural pillows for people who like sleeping on their side:
Plushbeds solid latex pillow is made with Global Organic Latex standard certified natural latex. 
It features among the best latex pillows for hot sleepers thanks to its breathable and temperature-neutral open-cell structure.
The medium-firm pillow's springy and resilient nature helps prevent or relieve neck and shoulder pain.
The pillow for side sleepers also works great for other sleeping positions. 
It comes in king, queen, and standard sizes each with a Global Organic Textile standard cotton cover for a super-soft finish.
Plushbeds pillow is backed by a 3-year manufacturer warranty.
Avocado molded organic latex pillow features cool-to-the-touch charcoal-infused latex enclosed in a machine-washable organic cotton cover. 
The latex core is suited for side sleepers and back-sleepers who need firmer pillows.
Charcoal infusion makes this the best latex pillow for temperature, odor, and moisture control while all-natural materials make it perfect for people with allergies.
Avocado Latex foam pillows boast several certifications including GOTS, eco-INSTITUT, GreenGuard Gold, and Oeko-Tex Standard 100.
The Avocado Green pillow for side and back sleepers is available in king, queen, and standard sizes. It is covered by a 100-night trial and a 1-year warranty.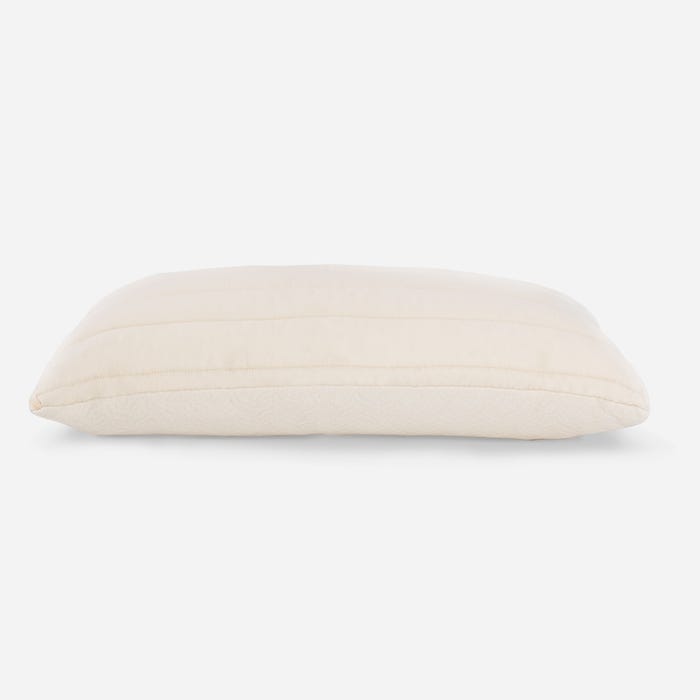 Looking for the best-shredded latex pillow? You might want to try the Naturepedic 2-in-1 adjustable latex pillow.
It is made of shredded latex fill and features 2 distinct feels thanks to its removable and machine washable cotton cover.
One side is smooth stretch-knit while the other contains quilted PLA batting to create plush comfort. Further, the fill is adjustable to suit your preferred loft. 
The organic shredded latex pillow is certified by GOTS, MadeSafe, GreenGuard Gold, UL, and Zero Toxics and is covered by free returns, a 30-day money-back guarantee, and 1-year limited warranty.
Available sizes include king, queen, and standard.
With Organic Textiles Talalay latex pillow, stomach, back, and side sleepers can find the best pillow for their sleeping positions. 
Unlike most other latex pillow brands, this pillow is crafted into soft, medium, and firm densities. It is ideal for addressing sleep-related shoulder and neck pain. 
The latex is pin-core designed for maximum breathability and heat regulation. These qualities are further enhanced by a GOTS-certified breathable organic cotton cover.
The pillow comes in king, queen, and standard sizes.
Juvea Latex pillow is made of 100% natural material collection including rubber tree derived latex and ultra-soft machine washable Tencel lyocell cover.
The Oeko-Tex certified pillow is baby-safe and resistant to mold and dust mites, making it the best latex pillow for the whole family.
It is medium-firm in density and is made to relieve the pressure that results in shoulder and neck pain. There are varied thicknesses for the king, queen, and standard sizes.  
In order to sleep cool, especially for hot sleepers, the latex is open-cell constructed.
Sleep and Beyond Latex  Side Pillow ergonomically contours to your natural curves for maximum comfort and support.
Like other latex pillows by the same brand, it is filled with adjustable latex noodles and Shropshire wool puffs.
The cooling pillow is hypoallergenic, high loft, and is available in standard and queen sizes.
A new pillow comes with a wool-filled quilted cover and 2 extra 300TC cotton sateen pillowcases.
The brand backs each pillow with a 5-year manufacturer warranty.
The Eastwarmth pillow is a fluffy marshmallow of a pillow that is squishy and soft.
The soft squishiness comes from the 30% goose down and 70% goose feather filling, all wrapped in a 100% organic cotton 233 Thread Count outer layer.
To prevent down leakage, the edges have been finished with a row of double stitching and self-piping.
For your money you get 2 standard pillows at a very good price.
I think this pillow is perfect for anyone who likes that soft and fluffy feeling from their pillow, so if you prefer a firm supportive pillow, this one is not for you.
What I like is the soft and fluffy feeling of the pillow. It's not too overstuffed and "full", however regardless of their best efforts, some feathers do poke through the cover.
The USA-made Bean Products Organic Kapok pillow is made of Global Organic Textile Standard or GOTS certified organic materials.
It is filled with 100% kapok fiber responsibly harvested from Rainforest Kapok trees and enclosed in a luxurious 500TC organic cotton cover. The result is a lightweight fluffy non-toxic pillow with a silky soft surface.
The supportive kapok pillow is just firm enough to offer excellent head and neck support. 
For easy care, the zippered organic cotton pillow shell is removable and machine washable.
This certified organic pillow is crafted into different sizes and styles to suit your needs including standard, queen, king, neck roll, and euro decorative pillows.
Beans72 Organic buckwheat pillows are filled with USA-grown buckwheat hulls, enclosed in a polyester liner. This is then inserted into a removable quilted organic cotton cover for a soft-to-the-touch finish. 
Buckwheat hulls conform to your curves to offer you needed cushioning and neck support. In addition, they are breathable, absorbent, and temperature regulating, making a buckwheat pillow a great choice for a cooler night's sleep.
This firm pillow features a zipper on the liner to help you adjust the buckwheat hulls to your liking. 
This buckwheat pillow is available in king, queen, standard, queen, and Japanese sizes.
Featuring organic shredded latex and microfiber fill encased in a cotton/ hemp/poly blend cover, Sleep Artisan pillow for back and side sleepers is among the best organic pillows with adjustable fill.
The pillow cover comes with a zipper that you can open to adjust the pillow's loft and density
This organic shredded latex pillow is hand-made in California to specifically promote healthy sleep. It features an ergonomic curved design to comfortably cradle your shoulders, neck, and head.
With carefully selected materials, the natural latex pillow is supportive, cooling, and resistant to dust mites and other allergens.
It comes in one size that measures 28x18x6 inches and fits well into a queen-size pillowcase. Sleep Artisan natural latex pillows are backed by a 30-day trial and a 3-year manufacturer's warranty.
Viewstar 2 pack Down alternative pillows are made of a super soft fiber shell filled with downlike fiber to result in a squishy medium-firm pillow that is suitable for all sleep positions.
The balance between soft and firm provides perfect cushioning and support, especially for side and back sleepers. 
With a gusseted design, this alternative pillow is able to maintain its loft and shape without going flat. Even better, they can be machine washed and sun-dried without losing their quality.
Both the shell and filling are breathable to ensure you don't overheat in your sleep. They are also Oeko-Tex certified to be free of harmful substances.
The pillows are available in king, queen, and standard sizes.
Holy Lambs Wool pillows are hand-made in the USA, Washington state. 
They feature organic wool nibs encased in a  certified organic cotton cover to provide cushioned support and comfort.
The breathable, super soft, and temperature regulating properties of wool and cotton, combined with resistance to dust mites make this a cozy, cooling, and hypoallergenic pillow.
With a zippered closure through which you can adjust the fill, this organic wool pillow also makes a great pillow for combination sleepers.
It is machine washable on a gentle cycle and available in king, queen, and standard sizes.
Conclusion
The list above contains the best-rated organic pillows in the market. They are laden with all the properties of organic materials, making them safe for use by all and all year round. 
These non-toxic pillows feature varied materials for shells and fill and come in varieties of sizes and styles. Most of them can also be adjusted to fit preferred lofts and densities.
When it comes to versatility though, one pillow pops above the rest. With the brand, you can get a pillow that suits your needs whether you want one for your bed, your couch, neck, or travelling.
Our Editor's choice for the best organic side sleeping pillow is the Bean Products Organic Kapok Pillow.
Things to consider when looking for the best organic pillow if you are a side sleeper
What kind of pillow should a side sleeper use?
Side sleepers need a thick pillow that fills the space below the head and neck in order to keep the spine aligned. The pillow should capitalise on offering a combination of support and cushioning.
What pillow density is best for side sleepers?
The best pillow for side sleepers should have a mid-level density; not so soft that it misaligns your spine or so firm that it causes discomfort or neck pain. 
However, the density can also vary a little depending on your sleeping habits. Side sleepers who toss and turn can opt for a plusher pillow that changes easily with your movement while those who mostly stay put can go for a firmer feel.
What is the healthiest type of pillow?
The healthiest type of pillow can be made from varieties of materials including natural materials such as buckwheat hulls, down, kapok, wool, latex, and cotton, as well as synthetic materials like memory foam and down alternative.
Healthy or non-toxic pillows all come down to material compositions that do not negatively impact your health. 
Different materials can make a non-toxic pillow depending on factors such as the raw materials used and the manufacturing process and this is where third-party certification comes in.
Should you buy organic pillows?
You should definitely buy organic pillows. They are made of organic materials, meaning that the materials are farmed and processed without the addition of chemicals, which makes them naturally non-toxic.
Also, compared to common pillow materials like memory foam, organic materials are natural thermal regulators which help you sleep comfortably regardless of the weather.