Read our review of the best organic pillow for stomach sleepers who care about their health and the environment.
If you are in a hurry and just want to know what the best organic pillow for stomach sleepers is, I recommend the Naturepedic Organic Solid Latex Pillow.
Organic pillows are made of natural materials farmed and processed without the use of chemicals such as fertilizers, pesticides, insecticides, vinyl, and flame retardants.
Organic materials are eco-friendly, more durable, and naturally temperature regulating.
Synthetic materials on the other hand are processed using chemical compounds and are usually made to closely mimic the properties of organic materials.
The choice between organic pillows and synthetic pillows can be informed by many factors including health concerns, eco-consciousness, and preference.
If your heart is set on using organic pillows, there are plenty of options for you to choose from, even for the not-so-common stomach sleeping position. 
You might, however, have to look more closely since most pillows in the market are crafted for the more common side sleepers and back sleepers. 
Below is a review of the best organic pillows for stomach sleeping.
Naturepedic organic pillow is made in the USA with Global Organic Latex Standard certified natural latex. 
It is crafted to be extra soft and 4-inches thick to cradle your head and enhance neck support and comfort.
To promote maximum air circulation, the latex features a ventilated design. The soft pillow is encased in a luxuriously soft Global Organic Textile Standard certified organic cotton cover, making it the coolest pillow for a summer night.
Further, all Naturepedic natural pillows boast certifications by MadeSafe, GreenGuard Gold,  and RainForest Alliance. 
The eco-friendly latex pillow comes in queen and standard sizes. It is backed by a 30-day money-back guarantee, free returns, and a 1-year limited warranty. Shipping is also free within the US.
Made of GOLS certified organic latex and featuring a pinhole design for cooling purposes, Organic Textiles natural latex pillow is made using the Talalay latex process, making it more breathable, lightweight, and fluffier.
The latex pillow is among the best organic pillows for neck pain. You can find your best firmness from the available soft, medium, and firm pillow options.
This certified organic pillow comes with a handmade GOTS certified organic cotton cover. It is zippered for easier removal, washing, and replacement.
The manufacturers recommend airing a new pillow in a shaded area for up to 2 days and cleaning with a damp soapy cloth whenever necessary.
This hypoallergenic pillow is available in king, queen, and standard sizes.
Juvea Talalay latex pillow is the best pillow if you are looking for versatility in sleep positions. With it, all sleepers can find support and comfort.
This pillow is made in the USA with Oeko-Tex Class 1 Baby Safe organic latex, making it suitable for use by all members of the family including babies.
Talalay latex makes this pillow way more breathable than other organic latex pillows and up to 5 times more breathable than memory foam.
To complement this pillow's eco-friendly properties and extend its life, it comes with a zippered machine washable Tencel Lyocell cover and a separate liner.
It is available in low and high profiles of the king and standard sizes.
The Avocado Green pillow features an organic cotton jersey liner filled with latex foam ribbons and GOTS certified organic kapok fibers pillow stuffing for a cool, contouring sleep experience. 
This is then encased in a removable washable GOTS certified organic quilted organic cotton cover.
The pillow filling is adjustable and to facilitate this, each plush pillow purchase comes with a separate fill bag. You can also buy extra refill bags when needed.
The Avocado Green pillow is made in the USA and boasts more certifications by GreenGuard Gold, eco-INSTITUT, and Vegan.  
The pillow is available in king, queen, and standard sizes and is covered by a 100-night trial, free carbon-negative shipping, and a 1-year warranty.
Conclusion
This list comprises the best organic pillows for stomach sleeping. They are all made of organic materials inside out and have various certifications to support this.
The natural pillows come in different sizes, densities, designs, and after-sale services to suit your preference. They are all easy to keep clean each comes with a washable pillow cover. 
If we were to go with just one pillow that cuts across all the above qualities, our editor's choice for the best organic pillow for stomach sleeping is the Naturepedic Organic Solid Latex Pillow.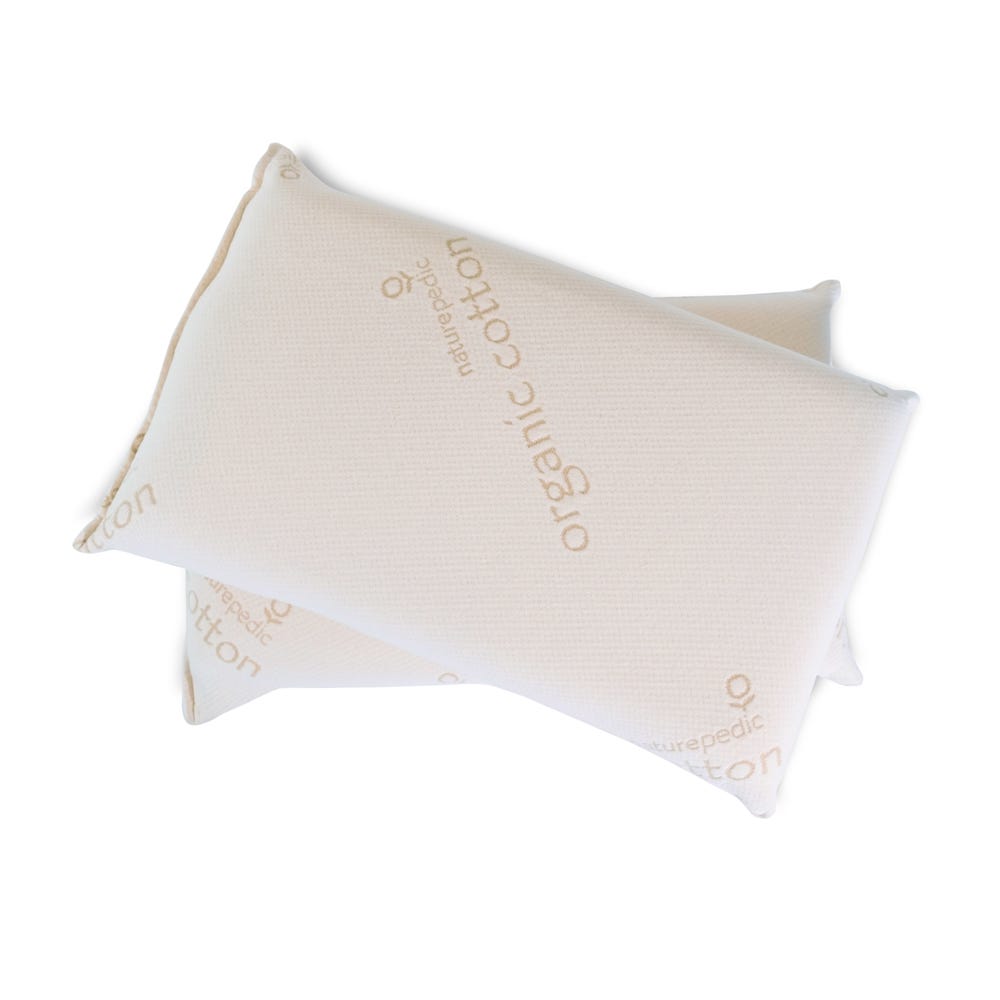 Things to consider when looking for the best organic pillow if you are a stomach sleeper
What kind of pillow should a stomach sleeper use?
A stomach sleeper requires a relatively flatter pillow, about 3 inches give or take, compared to back and side sleepers. This loft can support the head and neck without exerting unnecessary stress on your spine.
Experts also recommend placing another pillow underneath the pelvis to avoid straining the lower back.
Do stomach sleepers need a pillow?
People who sleep on the stomach require more than one pillow. This sleeping position strains the neck and shoulders and also causes the hips and abdomen to push down onto the mattress. Using a pillow below your head and abdomen can help.
What firmness is good for stomach sleepers?
A stomach sleeper can use a pillow that ranges from soft to medium-firm provided that the head and neck stay at a comfortable angle.
What type of organic pillows are there and what certifications should I look out for?
Cotton:   An organic cotton pillow is supportive, thermal-regulating, and adjustable. However, it does not contour and may flatten and harden over time.
Be on the lookout for GOTS-certified organic cotton pillows.
Wool:    Organic wool pillows are soft, supportive, temperature regulating, and resistant to dust mites, mold, and fungus. An organic wool pillow carries Global Organic textile Standard (GOTS) certification.
Down:   A down pillow is soft and cloudlike with cradling properties. It can have adjustable fill but also requires regular fluffing to maintain the loft. 
Ensure that your down pillow carries the RDS (Responsible Down Standard) certification.
Latex:   Latex pillows may feature solid or shredded latex. They are supportive with contouring properties almost similar to memory foam pillows but they are more durable and naturally temperature regulating. 
The best quality latex pillows come with Global Organic Latex Standard (GOLS) certification.
Buckwheat Hulls:   Buckwheat pillows are breathable and conforming. Their loft is adjustable to preference although some sleepers may still find buckwheat hulls too firm and noisy. 
You should look out for GOTS certified organic buckwheat pillows.
Kapok fibers:   kapok filled pillows are light, supportive, plush, soft to medium-firm, and resistant to mold and mildew. 
Kapok pillows are usually GOTS certified organic.
Silk: Silk-filled pillows are super soft, thick, fluffy, and breathable.  Silk also undergoes organic certification by GOTS.