Read our review of the best flat pillow for stomach sleepers.
If you are in a hurry and just want to know what the best flat pillow for people who are stomach sleepers is, I recommend the Elite Rest Ultra Slim Sleeper.
Stomach sleeping is the least popular sleeping position. Nevertheless, a significant number of people still prefer it.
This sleeping style has a good side too; it is the best sleeping position for people who snore or suffer from sleep apnea.
Given the position of the almost neutral spine alignment that comes with stomach sleeping, the proper pillow for stomach sleepers should only offer minimal elevation of the head and neck.
That said, very few pillows in the market serve this purpose as most serve the needs of the more popular back and side sleepers.
Some brands have, however, crafted stomach sleeper pillows that will offer both support and comfort whether you turn your head to the side or sleep face down.
This is a review of the best pillows for stomach sleepers on the market.
Today I am reviewing the following flat pillows for those who like sleeping on their stomach:
At 2.5 inches thick, the Elite Rest pillow is not only ultra-slim but also just firm enough to provide the needed comfort of a belly sleeper.
It is the best pillow for sleepers looking for the lowest-profile pillows.
The entire pillow features solid memory foam enclosed in a premium breathable and machine washable cooling cover. 
The Ultra Slim Sleeper memory foam pillow is mildew and dust mite resistant. It comes in one size measuring 24x16x2.5 inches and is backed by a 10-year manufacturer warranty.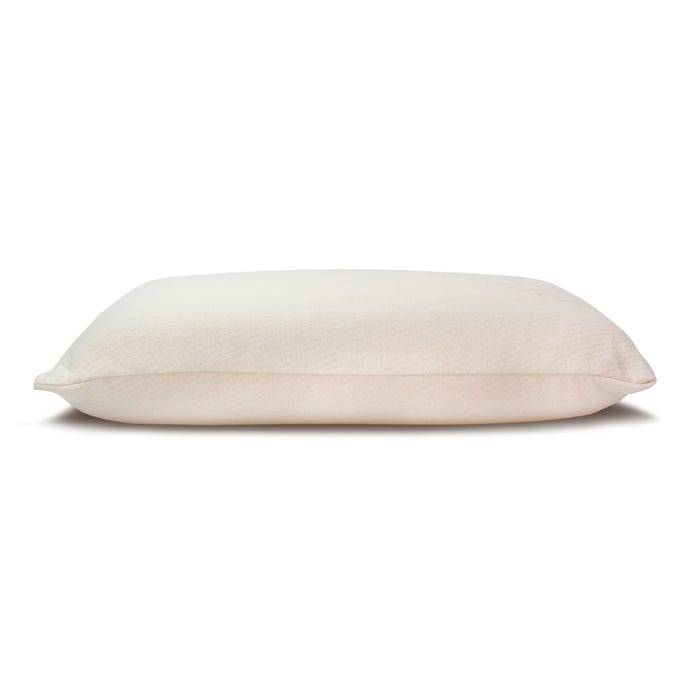 Naturepedic Organic Solid Latex pillows for stomach sleepers stand out because of natural latex's cradling comfort and support.
These pillows can, therefore, adapt to a sleeper's natural curves to suit even the needs of combination sleepers.
To complete the naturally cooling and safe materials, the pillow features an organic cotton cover. 
This stomach sleeper pillow boasts certifications by GOTS, GOLS, MadeSafe, and GreenGuard Gold.
It is available in standard and queen sizes and is backed by a 30-day money-back guarantee, free returns, free shipping, and a 1-year limited warranty.
Bluewave Ultra Slim pillow for stomach sleepers is made of CertPUR-US Certified gel-infused open-cell memory foam to provide supportive comfort as well as cooling properties.
These properties make this the right pillow for stomach sleepers who sleep hot.
With 3 profiles ranging from 2.25-3.25 inches, in both king and standard sizes, each sleeper can find comfort.
The memory foam pillow is covered in an inner mesh and an outer washable bamboo/polyester cover.
The Bluewave pillow for hot sleepers boasts over 5k ratings on Amazon.
With over 3.5k ratings on Amazon, the Blissbury Cooling Pillow features among the best pillows for belly sleepers by customer ratings.
Made of soft certiPUR-US certified gel-infused memory foam, this pillow is designed to ease breathing, prevent neck and shoulder pain as well as provide a cool surface to rest your head.
Blissbury side sleeping pillow features a breathable and moisture-wicking bamboo/polyester pillowcase that is available in white and gray.
The pillow is about 2.6 inches thick and is available in standard size. 
It comes with a carry case that makes it easy to bring your own pillow whenever you are traveling.
The Purple Pillow is made in the USA. It features a unique hyper-elastic polymer designed into a purple grid that makes it the perfect pillow for optimal head and neck support.
The grid has numerous air channels that encourage airflow to keep you cool all night. It retains its shape after every use.
The cooling pillow is non-toxic and hypoallergenic. It is CertiPUR-US and CleanAir GOLD certified.
It comes with adjustable boosters that can help you change the pillow loft by 1, 2, or 3 inches and a breathable moisture-wicking mesh cover that complements the pillow's cooling properties.
The Purple pillow is only available in one size measuring 24×16 inches.
Belly Sleep Memory foam stomach sleeper pillow balances softness and firmness to promote muscle relaxation, neutral spine alignment, and better breathing. It features curved edges to reduce strain on the neck.
The memory foam is cooling gel-infused to absorb body heat and help you sleep cool. The cooling effect is further enhanced by the cool-to-the-touch and moisture-wicking bamboo polyester cover.
This hypoallergenic and odor-resistant pillow is 2.5 inches thick. It is available in mini and regular sizes and backed by a 30-day trial and a lifetime warranty.
Tempur-Pedic Symphony pillow is the best adjustable pillow for stomach sleepers who keep changing their sleep habits and postures; over 2.6k customers have shared their experience on Amazon. 
The adjustability of the pillow comes with its dual-sided design that presents a contoured side, suitable for back and side sleepers, and a flatter side that is perfect for stomach sleepers.
Made of plush Tempur memory foam, the soft pillow adapts to your natural curves to offer excellent pressure relief. This is enclosed in a removable hypoallergenic polyester cover.
The puffy pillow comes in one standard size and is covered by a limited warranty.
Conclusion
The memory foam pillows and one latex pillow in the list above make the best pillows for stomach sleeping on the market.
They are all relatively thin and come with added features such as cooling properties, washable covers, and varied designs and densities to improve your sleep quality.
Further, all the pillows have been tried and tested by customers who have shared their experience on Amazon.
That said, the Ultra Slim Sleeper pillow not only qualifies as the lowest profile belly sleeper pillow but also touches on each of the extra features to pitch it above the rest.
Our Editor's choice for the best thin pillow for stomach sleeping is the Elite Rest Ultra Slim Sleeper.
Things to consider if you are a stomach sleeper looking for a flat pillow
Do stomach sleepers need a pillow?
Some stomach sleepers can get away with sleeping without a pillow while others can't; it all comes down to getting comfortable enough to have restful sleep. 
Stomach sleeper pillows help to reduce pressure on the shoulders, head, and neck by maintaining neutral spine alignment.
What type of pillow is best for a stomach sleeper?
Stomach sleepers need softer and thinner pillows compared to back and side sleepers.  This is because they require little or no elevation to achieve neutral spinal alignment. 
Materials such as memory foam, shredded memory foam, latex, shredded latex, down, and down alternative make  great stomach sleeping pillows.
That said, a thick pillow can elevate the head and neck too much and cause pain.
Is it bad to sleep on your stomach?
Stomach sleeping has its advantages and disadvantages. The sleeping position can put pressure on your neck and jaw when you sleep with your head tilted as well as cause lower back pain. 
You can reduce the discomfort by using a pillow that allows you to sleep face down and putting a pillow underneath your stomach.
On the brighter side, stomach sleepers tend to have an easier time with sleep apnea and snoring.
What is the worst pillow type for stomach sleepers?
Pillows that are too thick and too firm make the worst type of pillows for stomach sleepers. They cause unnecessary strain on the head and neck leading to shoulder and neck pain.